Embrace, tetralogy of interdisciplinary art 2014.
Con la participación de: Carolina Estrada, Kenyi Quispe, Ros Postigo, Luisfernan Vargas, Fiorella Garrido-Lecca, Manuela Talledo, Julio Martín Pinto, Stefania Polo, Ysavo Morales, Karla Peralta, Helga Elsner, Esra Özmen, Greta Gregor, Robert Hobl, Ingrid Gugganig, Sonja Kothe y Martín Ponce.
Manuela Talledo
Lime.
"I have 4 daughters, I like knitting, my great grandfather was born in Austria."
HUANCAINA'S STYLE POTATO:
Two spice ¨ajies¨ Mirasol (look like chillis, but orange)
200 gr fresh cheese (its white and it doesn´t melt)
1 tooth of garlic (not powder)
4 crackers
1/2 lemon
1/2 lettuce
1/2 egg
1/2 cup of milk
1 black olivesalt
kitchen oil (the amount you feel it)
1 potatoshredded parsley .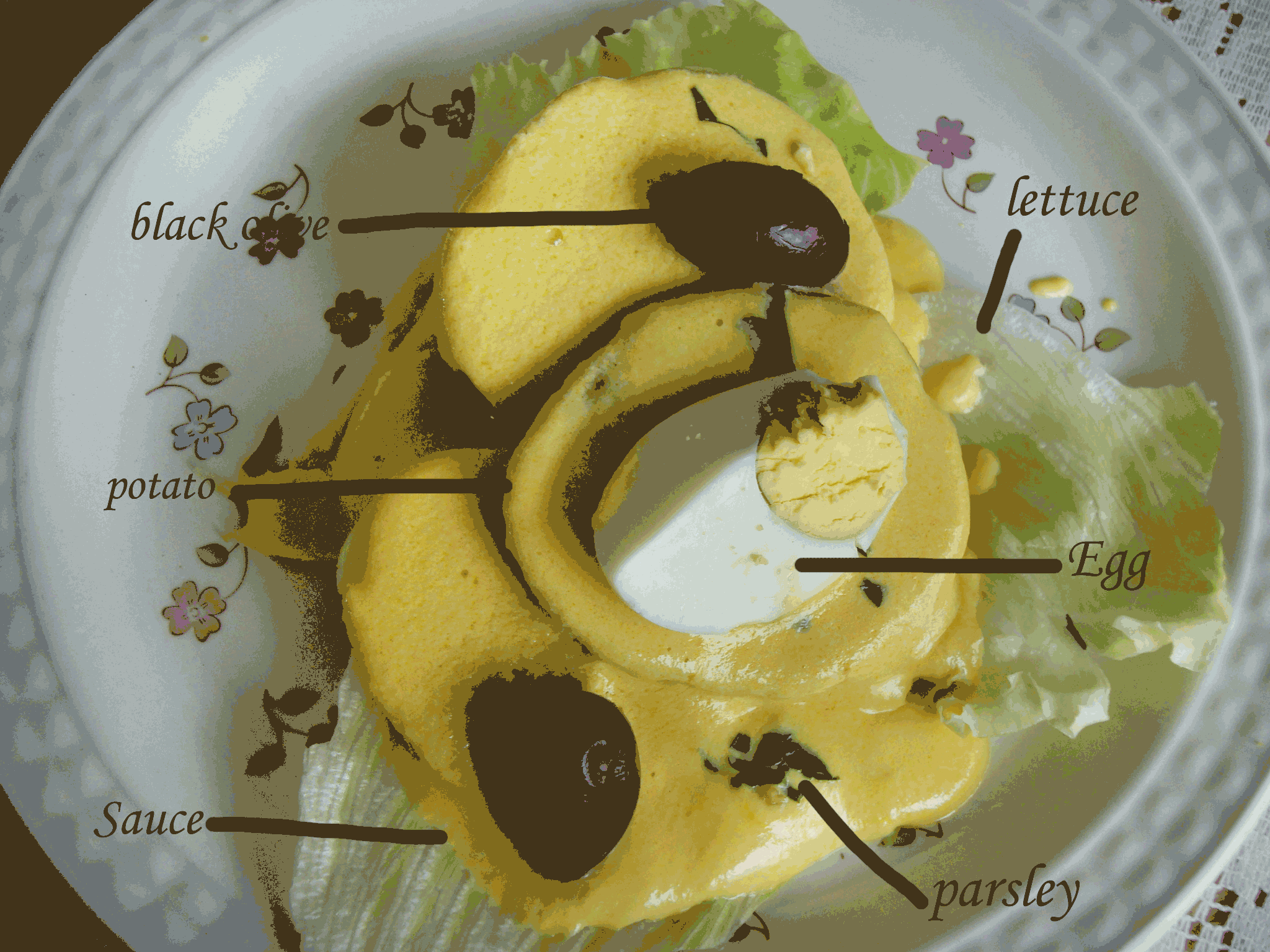 Preparing:
Boil the spicy orange chilli in water (in order to keep the taste but not the spice). Then put it in the mixer machine with the fresh cheese, the garlic, milk and crackers. Mix al those ingredients, and while they are mixing put salt (less than a tbsp) and the kitchen oil and the lemon. At the same time, put the potato in a casserole to cook with water. And the egg. You can do it in the same casserole. When the potato is ready, and the mixing sauce is done, you peel the potato and put it on a plate (dish) then you spread the sauce around and in the potato. Then you peel the egg, cut it in half and put it in top of everything as a decoration (same with the black olive)
Embracing was a tetralogy carried out in close collaboration with Hansel Sato, made up of Knowing , Knowing , Understanding , Learning , a project that put people from the multi-ethnic Sandleitenhof residential complex in the city of Vienna in contact with people from various districts of the multicultural city of Vienna. Lime. Started remotely in December 2013, it culminated in Vienna between May 17 and 31. He integrated mail art, interventions in public space, installation, exchange meetings and performance.
Embracing was part of the XIII SOHO in Ottakring Festival, held during May 2014 in the Sandleiten neighborhood, 16th district of the city of Vienna, Austria, under the curatorship of Ula Schneider and Hansel Sato.